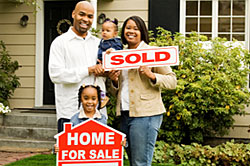 We are committed to providing you with personalized, hands-on service. Whether you're buying your first home, moving up or downsizing, our mission is to help you every step of the way. Buying a home in Atlanta is a major decision and you can rely on our industry expertise and experience to ensure a smooth real estate transaction, from viewing homes to navigating closing procedures.
It is our goal to ensure the process of purchasing a home is as seamless and stress free as possible. As your buyer's agent, I will represent your interests and negotiate tirelessly on your behalf.
We have access to every property for sale in the Atlanta area and we stay informed of current listings in order to provide timely information to you. We will work closely with you and assist you in identifying potential properties of interest and answer any questions you may have. Once a property has been identified that fits your requirements, we will guide you through negotiation an offering only our expert opinion. The Gordon Team handles all the messy paperwork throughout the sale and assists in various other aspects of the buying process, including attending property inspections and providing lender referrals.
Our mission is to locate the best property for each client in an expedited manner. Please Contact Gordon Street Realty anytime to begin searching for your next home.
From Start to Finish
We represent you and your needs throughout the entire buying process
We know the history and trends of Atlanta's neighborhoods
We commit to be closely and personally involved with you from start to finish. (This is often not the case with the larger real estate companies)
We evaluate your specific needs and wants and locate properties that fit those specifications
We provide detailed descriptions and photos of the properties prior to visiting them to increase efficiency and narrow down the choices to those that truly interest you
We research properties in order to identify any problems or issues to further assist you in making an informed decision
We provide educated and informed guidance
Access to FMLS, broker networking and other means of locating the best property for you
Strong negotiating ability to achieve your financial objectives and obtain an identified property at the best price possible – ensuring your best interest
Diversified experience in all aspects of the Real Estate business (invaluable when the unexpected happens which it usually does)
Solutions tailored to your situation and achieving your goals
We provide referrals for mortgage brokers to assist with the financial aspect of the home buying process
Consulting on a flat fee basis available for limited needs situations
We attend your inspection
We attend your walk-through
On-site closing coordinator
We provide closing and moving details to facilitate the easiest transition possible