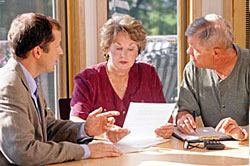 Putting your home on the market? Before you set out that For Sale sign, make sure your home is in top selling condition. Approach every aspect of your home from a buyer's point of view and remember that old saying: You never get a second chance to make a first impression.
First off, it's time to enhance your home's curb appeal. The way a home looks from the street is a crucial decision-making factor for potential home buyers. By increasing your home's exterior appeal, you'll garner more buyer interest by making them want to see more. Now's the time to cut back that undergrowth beneath the stairs, mulch the flower beds and manicure the lawn. Be sure to weed the flower beds and maintain a clean and neat walkway. Additionally, it never hurts to repaint the house's trim and front door. Give your home's exterior an all-around welcome feeling to entice potential buyers inside.
Now onto your home's interior. Overall, your house should convey a feeling of space. Regardless of house size, your home should be de-cluttered and de-junked as much as possible. It's often said that buyers won't buy a house they can't see. So clean out stuffed closets, reorganize the basement and clear out the garage. If necessary, put all this extra stuff in storage. Clear off messy countertops, clean out those junk drawers. You can expect that potential buyers will be opening drawers and closets to determine the amount of storage space. Make sure your home is as clutter-free as possible.
Now let's focus on the kitchen and bathrooms. No other rooms are as important to home buyers in terms of cleanliness and functionality. These rooms should be made as bright, clean and odor-free as possible. Fix leaky faucets, clean out the tub and sinks and in general make everything as modern and sparkling as possible. Hire a plumber to inspect faulty plumbing, if necessary. To give your kitchen and bathrooms an all-over gleaming look, consider repainting with a fresh, bright color. Clear out cluttered drawers, old cleaning supplies, empty shampoo bottles…; you get the idea.
In bedrooms and living areas, make sure these rooms convey spaciousness as well. If necessary, move very large pieces of furniture to storage. Make sure to clear away all those stacks of magazines, piles of toys and shelves full of knickknacks. Potential home buyers should be able to visualize this space furnished with their own belongings and not be overwhelmed by yours.
Throughout the house, make sure the walls and doors are clean and smudge-free. Repair any cracks, holes, broken or painted-shut windows, etc. Remember to replace burned-out light bulbs, clean any stained carpets, dry clean the drapes, whatever you need to do to make your home as clean and spacious as possible.
Now let's address how your home smells. The overall smell of a home is a major indicator of how clean and well-maintained it is. To eliminate odors, take out all garbage, clean out the trash bins themselves, replace moldy shower curtains, freshen the cat box, anything that might produce unpleasant smells. Consider having your carpets cleaned, especially if you are a smoker or a pet owner. Many home sellers will use air fresheners or other odor-maskers but be careful: many people are sensitive to these fragrances and may not be able to tolerate them. A less offensive odor-removing remedy is to place open boxes of baking soda in odor-prone areas.
Finally, go through your house as if you were the buyer. Consider it from all angles: curb appeal, space, storage capacity, cleanliness, odor and functionality. By investing a little time and effort in sprucing up, your home will be ready to sell!