Personal Pledge of Service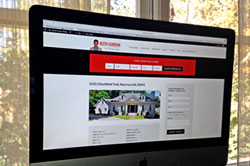 As your professional real estate team, we promise to provide you with complete honesty, loyalty and, confidentiality, and to adhere to a higher standard of ethics by which we, as agents, are sworn to as described in the National Association of Realtors Code of Ethics.
Value Added Services
What is a value added service? Simply put, a value added service is a service that one would be willing to pay another to provide on their behalf. Typically, one is willing to pay another to provide a service when they do not have the time, knowledge or expertise to provide the same service for themselves. In the real estate industry, there are numerous reasons a consumer may be willing to pay for an experienced agent's services, such as security, reduced inconvenience/stress, and marketing venues not available to the consumer.
"Don't list your home with anyone until you read what we are prepared to offer".
Listing Pre-Inspection with Q & A session.
Detailed Comparative Market Analysis used to price your home competitively in the market.
FMLS representation with exposure to more than 25,000 local real estate agents
I-box Lockbox placed on every door for easy agent access to property
Virtual tours, Professionally designed flyers, Open house showings
Professional staging, direct mailing to agents and potential buyers in the area
Access to unlimited vendor resources for both buyers and sellers
Expansive internet exposure through a personal website designed for the listing, Realtor.com, Google, Broker Reciprocity, Yellow pages,
Super Pages and much more
Advertising in local print media ex: Atlanta Journal-Constitution and local periodicals
Personally prequalify all potential buyers
Advocate for seller and personally assist in negotiating all aspects of the contract with the goal to obtain the highest possible sales price
Provide weekly and monthly custom feedback reports on the showing activity of the listing in PDF format
Our Comparative Market Analysis
With our Comparative Market Analysis (CMA), we look at all the factors that might influence the value of your property, and develop a price that is guaranteed to attract buyers. Our CMA includes a thorough inspection of your home, research on factors in the area that might influence your home, and tips on how to quickly make your home more attractive – some of our findings here could bring as much as five dollars in extra sales price for every dollar you invest.
By the end of our CMA, you will have a checklist of strategies to ensure you sell your home for the highest value possible. Investing the time upfront to pinpoint the best pricing, along with finding the right market niche for your home, will allow us to decrease the sale time and ensure a smoother and more efficient selling process overall.