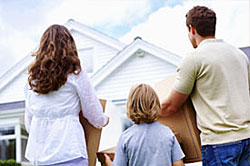 Whether you are an individual simply relocating, or moving your entire family due to transferring with your company, the Gordon Team can help. Our relocation professionals ease the transition whether you are moving across town or across the globe. We will work with you to find an area that best suits your professional, family and lifestyle needs.
New residents to Atlanta will find a wide selection of new homes, but also strong competition in the buyer's market. That's because Atlanta's one of the fastest growing big cities in the nation, and demand for local real estate is always steady. Many people moving to Atlanta prefer to work with a relocation specialist to get the edge on other buyers, and to find the right home quickly.
As your Atlanta relocation specialist, it is our goal to ensure you have a smooth move to this charming city. We have extensive relocation experience and are here to ensure your relocation is a seamless and stress-free one. From providing exclusive and detailed information on the market trends in Atlanta to acquainting you with the abundant education options, the Gordon Team is ready to assist you with all your relocation needs so that you can find the right home in the right area in the quickest time possible.
The Gordon Team committed to building and maintaining lifetime relationships with our customers through products and services that deliver the highest quality and value in the real estate industry. It is our hope the each transaction surpass our customer's expectations.
We have assisted a tremendous number of corporations, individuals and families both moving to and leaving the metro Atlanta area. Teamwork and communication are essential to the success of any relocation. Whether working with an individual or helping with group moves, the experience and expertise we provide makes working with the Gordon Team a win-win situation for all.
To begin your relocation to Atlanta contact us now, or give us a call at (404)254-4502. We look forward to working with you on your move to this exciting city.