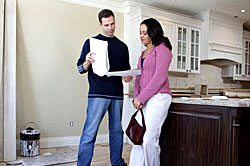 Buying a home for the first time is exciting and exhilarating, but can often times be overwhelming and frustrating. It is important for you to choose the right Realtor to walk you through every step of the process so you are not only comfortable but confident in the decisions you make. Gordon Street Realty is here to make buying your first home a hassle-free and successful endeavor. We offer the following tips to first time home buyers to ensure the smoothest and most successful buying process possible:
Pre-qualify and Secure a loan
One of the first steps in the home buying process is to get pre-qualified for a loan. What does this mean? This refers to having a lender review your credit and income to determine your suitability for a loan.
Once you are pre-qualified, this lender, along with Gordon Street Realty, will work with you to determine what price range suits your needs by helping you to understand what purchase price equals what mortgage payment amounts. This is very important in determining your ultimate price range so that you not only get pre-qualified for a loan but that you can also afford that loan. With the numerous loan types available today, it is essential to understand all the options.
Gordon Street Realty will work with you through this process to answer any questions and even provide lender referrals if desired. It's uncommon for first-time home buyers to have the necessary cash available to make a down payment and cover closing costs. Therefore, most people will visit a bank to secure a loan for the buying process. Once pre-qualified, this process should be a smooth one since your credit and income have already been reviewed and have proven satisfactory to qualify for a loan. As you compare various mortgages and companies, be sure to consider all options including overall costs as well as the interest rate. Mortgages will often have hidden costs or penalty charges that you should understand fully before signing anything.
Every situation and loan will be slightly different and the agents at Gordon Street Realty will be able to guide you towards the most beneficial loan structure to fit your desired goals and needs. Always consult your agent if you are confused or need additional guidance so that your best interest is represented.
Finding your new home
Once financing is secured, the fun part of the process begins. Deciding where to live and what type of home you want is a major decision. It's essential to find a community that meets your family's needs and lifestyle. Not every community is right for everybody.
The Atlanta area has many desirable regions to suit many different lifestyles and budget requirements. Gordon Street Realty's agents are regional experts and will be happy to answer your questions regarding suitable communities. Your agent will search through thousands of homes to locate properties that fit your desired specifications and provide you with photos and descriptions to help narrow the search. Your agent will also provided comparable listings and research and answer any questions you have regarding select properties.
The following are some tips for assisting in finding "The One":
Make a list of what characteristics your ideal community would have
Take into considerations schools, transportations, access to interstates, proximity to shopping, restaurants, airports, emergency services, recreation, etc.
What types of activities do you enjoy? Do you prefer bustling communities or more privacy and seclusion?
Think about community resources that you utilize: schools, libraries, community colleges, day care, etc.
Make a list of your priorities and choose communities that fulfill most of your needs.
Contract and Negotiation
When you have narrowed your search down to "The One", it will be time to work with your Realtor to draft a contract and begin the negotiation process. This will include establishing an offer price and discussing any other specifications (home warranty, appliances, house cleaning, repairs, etc.).
Once the contract is fully negotiated, earnest money is typically deposited and accepted into an escrow account. The earnest money is used to secure the property while you finalized your financing and have a home inspection completed to ensure there are no issues with the property. The earnest money is later applied as part of your down payment at closing.
Gordon Street Realty realizes that this part of the process may be confusing regarding issues that may arise concerning home inspections, making necessary repairs, understanding closing procedures, etc. Our agents have vast industry experience and contract negotiating savvy to manage all these issues and ensure that your negotiation runs smoothly through to the closing, successfully and on time. We will walk you through this process step by step to ensure your best interests are represented and answer any questions you may have.
Closing
You've finally reached the closing. Congratulations! Your Gordon Street Realty Agent will attend the closing with you to help you understand the settlement statements and answer any questions you may have. A typical closing takes approximately 1 to 1 ½ hours depending mostly on how busy the attorney's office is.